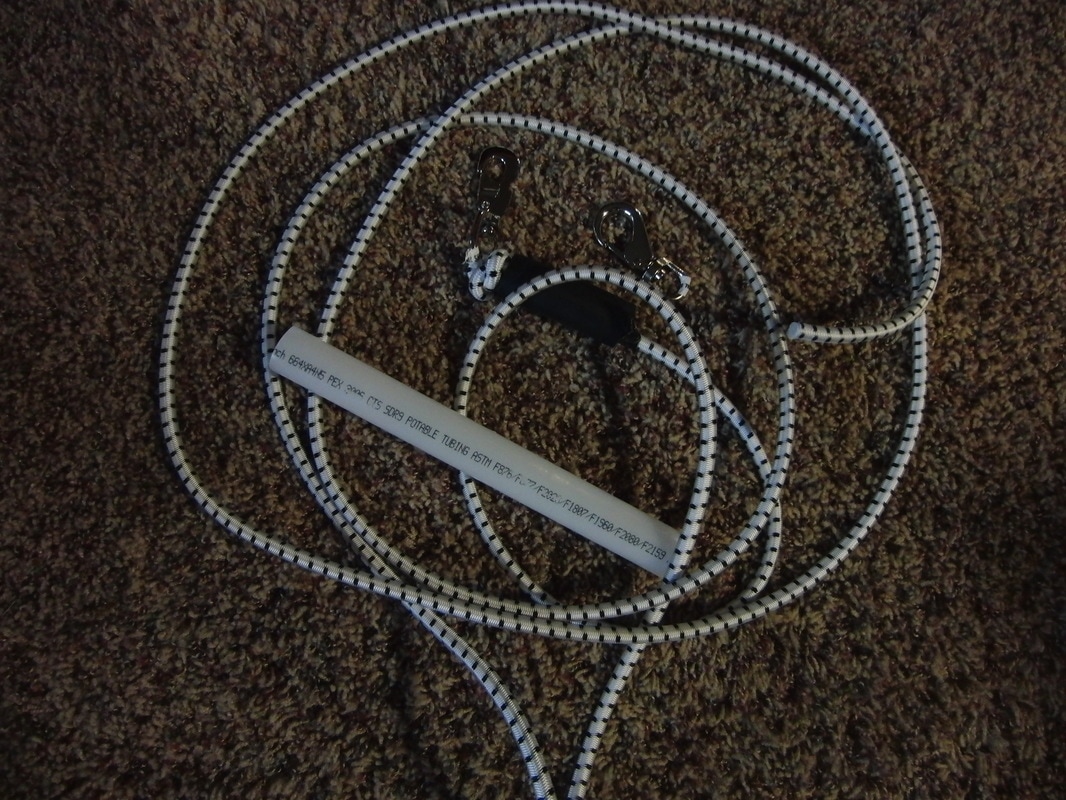 SLIDE TUBE & GUIDE ROPE:
Our sportstechniqueLLC insurance does not want us to continue selling the complete Slide Tube/Evil BP combo, so what we are doing is selling the unit WITHOUT the ball on it. We fine tuned the system, with 3/8 shock cord , highly abrasion resistant, that eliminates the need for bunge cords. We use metal clips on top and bottom, as well as nylon, not pvc tubing for high wear resistant slide tube. This is the same material we used for making the Evil Bp/slide tube combo. If you want a softball on this apparatus, it will be at your risk to drill a hole and mount a 44/375 ball. The motion of the ball is very violent and the clip at the top could unlatch or break, so if you make this attachment, we suggest that you wear a helmet with facemask. Some report they added a second heavy hook to the top, to make sure the clip would not bounce loose. Also do not hit the ball near the top anchor point with added risk of the ball impacting the rubber hose and clip. Like all ball equipment, there is a risk involved when you use. Some report they use a 3/4 inch rubber hose of 5" at the top or a couple of tennis balls thru the rope as a shock absorber. At any rate, its a great tool, but make and use at your own risk. We are not endorsing it as something we sell for insurance and liability potential. That's our disclaimer.

Its a tremendous tool that is outlined on episode #45
Heavy duty Slide Tube and Shock cord, with clips, $30.00
shipping USPS priority $12.00
paypal GIFT to kennethvanbogaert@gmail.com $42.00
please include ADDRESS on order
***SORRY ONLY SHIPPED TO THE UNITED STATES****************************************************************************************************************************************
​Training Tools will really enhance your ability to train. We will list our training tools below, but a quick outline of products we endorse and use in our lesson makeovers.
DeMarini Bats....While DeMarini is considered to have the top ASA bats on the market with the Aftermath, Juggy, and Dual Stamp, its amazing to me that the Senior One Endload is not in every senior players bag. Other bats perform well and some have great durability...the DeMarini Senior One Endload is the TOP PREMIUM PERFORMANCE bat in our opinion. Give it a try http://www.demarini.com
Evil Rocket BP Balls....These 2 color balls, show spin and help you adjust your mechanics. In addition, they are super durable and perform well. We have over 4,000 swings on some of these and they are the best in the market. Bob Russells Evil game balls have earned the best reputation in the industry.
http://www.evilsports.com/
G Tee ...The tee is one of the main keys of our teaching program and this is the best product we have ever seen. It telescopes from 26" to 53". Its stable and has a durable extended top which I have never broke in 2 years of lessons.
The best part is it comes apart with one pin from its small base and it fits nicely in any bag or
bat pack. I use it before every tournament game, because its so easy to bring with. Absolutely the only tee you will ever need.
http://thegtee.com/