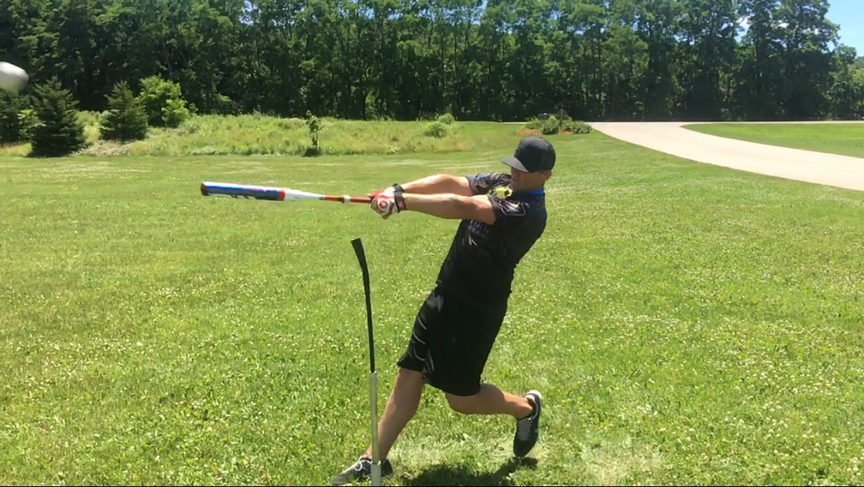 Swi
55
Youtube
is the host to our instructional hitting clips. These clips represent a sample of the instruction presented in on our DVD series. These are available for sale on this website.
kennethvanbogaert is our youtube channel to over 6 Million views
Here is the easiest way to watch and access our shows..all in order, with descriptions and links.
It cost nothing to hit SUBSCRIBE when a show is up on youtube..give them your email and ALL new shows are automatically emailed for free to you.
"SWING MAKEOVER SERIES"
The
"Swing Makeover Series"
breaks down the swing into small progressive steps, and tracks the progress of individual hitters, who correct the flaws and progress onto the next stage of improvement. This series is done with our partners, DeMarini Sports, Evil Sports, Shirts N Logos, Softball Magazine and Senior Softball USA. In just a 90 minute s
ession, great improvement is seen because a system of drills and steps are used. The
athlete can then practice this at home and off a tee to develop the skills.
HIT SUBSCRIBE
below youtube player when watching and
NEW EPISODES
will be emailed to you for FREE
*****************************************************************************************************
SEASON 7 SHOWS
Ball Exit Speeds and Member Hitting Tips from Woodlawn Hitting Club SM#82

Compare your own exit speeds to a variety of rec level to major hitters at the famous Woodlawn Hitting Club. 84 year old Bob offers tips on hitting and we discuss launch angle with 55 Mike Vucish, who has up to 105 mph exit speeds, incredible numbers for any athlete. Wilson/DeMarini/Slugger continue as our main partner with Evil Sports, ShirtsandLogos.com and theGtee on board as partners in our series.
https://youtu.be/syaD0Uf3XZQ


SEASON 6 SHOWS


Stride, Weight Transfer and Rotation Teaching by Paul Stanley, DeMarini Senior Pro SM81
https://youtu.be/0MRYYdKdfCk
Longer Stride, Improved Rotation and a Down Hand Path, equals success for 53 year old SM 80
https://youtu.be/pEUbALTEd58
Thoughts of a Downswing, Level off and Increase Power in 49 Yr. old SM 78
https://youtu.be/qbgU48N4fKQ
Strong Lag & Snap Level off and Increase Ball Exit Speed for Lesson Athlete SM 76
https://youtu.be/KjsMYwDH9SQ
Differences in the Evil Bp Rocket, 52 and Ultimate Evil with Bob Russell of Evilsports.com

https://youtu.be/XTHLlWpKOak


Iraqi Vet Relearns Snap, Rotation and a Powerful Swing. Episode # 75

9 months in the hospital but 49 yr. Mike has come all the way back to 95mph exit speeds and distances of over 400 feet. Stride, rotation, and snap all were deeply flawed but a quick learner Mike did an outstanding job in spite of remaining back and head injuries
https://youtu.be/gyWhagsDsSc
Andrew Collins Swing showing cutting top, middle or bottom of the ball with Same Mechanics

Using the same mechanics but changing the angle and focal point of the aiming point on the ball, allows him to strike the top, middle or bottom of the ball with the same basic swing...something rec hitters would do well to emulate.
https://youtu.be/lfdr9VfOYfY
Leveling Jeremy's Swing Brings First Homeruns Lesson Short
Arm extension and wrist torque, focusing on a level swing, not uppercut..increased Jeremys ball exit speed 20 mph (up to 86 mph) and gave him his first two 300' homeruns. Perfect snap on the guiderope a huge key for him
https://youtu.be/s-XBpKtIWWY

DeMarini Nautalai Review with Bret...Hottest of the new bats?
Unreal performance with DLab new Technology. Bret, and Ken demo this bat at Dave North Diamond. DeMarini/Wilson Sports, the main partner of the Swing Makeover Show.
https://youtu.be/2waIEkWxfKc
Better Glide, Lag and Snap Bring Eric Homerun Power Episode # 74

Using power hitter Bob Woldyk as a model, Eric increased ball Exit average by 14 mph, started hitting some long homeruns and became much more consistent. Using DeMarini Bats, and Evil softballs, some flaws on lag and lag angle persist, but impressive improvement thru drilling for the 43 year old.
https://youtu.be/Lt0H3vqcrw8
Swing Short..Not Perfection but Big Improvement for 64 yr. old Athlete

Poor stride and snap were persistent in Dave's swing. We show the drills and work he did in improving
https://youtu.be/i_-uRIf3gNM
Swing Makeover Short Babe Ruth's Swing side by side compared to top Conference and Senior Swings
Interesting, no one taught Ruth, Williams, Mantle or Aaron hitting. They developed a feel for a natural power swing with elements of linear and rotational mechanics. Jason, from
www.shirtsandlogos.com
has a gift for Trump to take to North Korean president. Swing Makeover Short.
https://youtu.be/6lJjiSTxvNY
Swing Makeover Episode # 72 Hands Back during Stride, Critical for Transfering Hip Power to Bathead

Great episode showing top pros along with Bret's instruction. If the stride and hands back breaks down, there is no way to recover with any power or consistency. Bear in a funny DeMarini bit on ..Are you living the DeMarini High Life.
https://youtu.be/y3-sw550yCo
Swing Makeover Episode # 71 Jason Branch, top pro, on Hitting Mechanics for basehitting & homeruns

Amazing, highly detailed teaching of mechanics, basehitting and power hitting from Mens Major USSSA Champ leadoff hitter, along with Ken and Bret .
https://youtu.be/AxAAn4qHMto
Swing Makeover Episode # 70 Pro Golfer Eagles Softball Lesson & Levels Uppercut Swing with Power Punch Drill and Focus

Tyler, a Pro Golfer, had the typical uppercut swing you see from former baseball players, golfers and really many of the lesson athlete's we work with . An amazing turnaround, changing focus and using the new Power Punch drill to develop a drive of the ball rather than a lifting uppercut. ASA DeMarini Flipper used. Bear struggles in an episode of the "Bear-Achelor", "Women tell All".
https://youtu.be/oJHYRW-Dq94
Swing Makeover Episode # 68 Improved Rotation & Snap, help Rec hitter achieve 90 plus Ball Exit Speeds
Focusing on Snap and Rotation brought a rec hitter consistent 90 plus ball exit speeds using the Demarini new Utrip bats, Twisted Mistress and New Breed. Progression shown of drills and improvement. Featuring spots from Bob Russell and the Rinse and Wash Evil Bp balls and Jason from Shirtsandlogos.com showcasing some new Slugger product and subdye. Swing Makeover #68. Please subscribe..alot of new shows and bat reviews from DeMarini and Slugger coming soon.
https://youtu.be/BwC3hYAUEQU
Swing Short Demo of Bret's Swing showing stride, rotation, snap and finish ..DeMarini Utrip bats
https://youtu.be/CJ4IHdAAEn4
Swing Makeover Short...Using a Reachstep to fix lunging and chasing ahead for the Ball...Great solution to common problem

Ken demonstrates how to "Reach" the front foot during the timing, keeping the weight back until the rotation finishes the plant of the front foot.
https://youtu.be/1vp2XdABJn0
Swing Makeover Episode #67
Jim's Point of Contact...A common hitting flaw and how to correct...lesson highlights
https://youtu.be/bEoIk4E9tZY
Swing Makeover Short
66 year old Cade, levels off a Massive Golfing Uppercut into a level swing...lesson highlights and fixes
https://youtu.be/AEzQwYZH95Q
Swing Makeover Short
Destiny, our staff superstar, swings a variety of DeMarini Bats including Flipper OG ASA and Juggernaut ASA
https://youtu.be/bs3ofqM4IQw
Swing Makeover Short...31 yr. Old athlete improves snap, hits Flipper OG 400 Feet!

Sean developed a cutting oversnap and improved his ball exit speeds to lower 90s and distance with a DeMarini Flipper to 400 feet..one of our lesson athletes
https://youtu.be/WjbY_OBCklM
Episode #66 Ryan Harvey Tee Hitting & Hitting Tips
Member of SIS USSSA world champs and conference Homerun & RBI leader Ryan Harvey shares his tee workout, and gives tips on pitch selection, hitting to all fields and point of contact.
https://youtu.be/b4l8ksrgRog
Swing Makeover shorts 55 Year old corrects uppercut swing..featuring Larry Carter Senior Bat
With a recent new hip, 55 yr. old Bob, using better angle, extension and snap, works to correct a loopy uppercut and golfing motion on the swing. DeMarini Larry Carter Senior Bat featured
https://youtu.be/JXyyUVtV2YA
52 year old E player increase ball exit speed 12 mph
https://youtu.be/0W_rYVCEiNY
Episode #65 50 year old World Arm Wrestling Champ harnesses rotational power & snap

World Champ Armwrestler, uses hip drive to create a stabbing lag and snap, and harness power into 380 foot drives and 90mph exit
https://youtu.be/UqDI4VaWtls
_____________________________________________________________________________
season 5 shows
Episode #64 Smart Hitting Strategies/Adjustments= Big Finish to Season Tournaments
Vic Cordova, 39year old conference major player, as well as 65 Major Plus hitters, talk about adjustments
and strategies used to peak at Worlds and season ending tournaments.
https://youtu.be/zMZJe8qWmag
Episode #63 Foam Roller, Elastic Bands, Massager..Fountain of Youth for Athletes
Certified personal trainer Davey Reed outlines excellent warmups that target critical tendons and muscles for maximum flexibility, warmup and performance in playing. Also a chiro grade massager that anyone can afford and use.
https://youtu.be/PaqEQl8UB5A
Episode #62 Isometric on Deck Drills, may raise your Bat Speed 3-5%

Isometric drills on deck, the rage in baseball, can be used to stimulate quick twitch fibers and raise bat speed 3-5%. Destiny discusses how to do these and the benefits from the baseball research.

https://youtu.be/LYhnzbWkQxA

Episode #61 Slumping? 3 Techniques for Slumpbusting.

A look at 3 techniques that will help break your midseason slump. Involves making a 3 part wind and stride into a 2 part motion, guidance of the lag and snap, and finally finishing the swing with the extension and follow thru of the top arm and hand.

https://www.youtube.com/watch?v=TJtRqJg_4t8


Episode #60 65 year old Pat's tough improvement of Rotation & Snap
A very rough start for the rotation and angle of Pat's Swing...It took all 5 hip drills to finally develop the proper form of rotation, tempo and angle. Using the stab method of creating a lag and snap, as well as using the top hand to guide the bat head into the ball brought great improvement and a base to develop good muscle memory thru practice.
https://youtu.be/jcGHcjJbG_E
Episode #59 Dawn's Swing Makeover Lesson
Dawn improvement was amazing considering the amount of flaws in her first swings. Still needs a better rotation and body angle, but an impressive outing for a senior lady slugger. Swing Makeover 59, all accessed off www.sportstechnique.com
https://www.youtube.com/watch?v=DJFZqsq_twU&t=28s
Episode #58 Quick Wrist Snap Improve Rec hitter Dane's Swing

Using axesnap drills, point of contact drills, Dane develops a powerful snap and consistency of power. Short but very good episode that tracks his improvement.
https://www.youtube.com/watch?v=Pv5fm_6nj5k
Episode #57 DeMarini Pro Dale Brungardt His Swing and Strategies for Hitting

This top young Long Haul Bomber, major player and respected DeMarini pro, talks about how he trains, goes from hitting homeruns to basehitting in the pro game. You may be surprised by his strategy. Great player and an even better person.
https://www.youtube.com/watch?v=tWFS_IDfyno
Episode #56 Brian Wegman converts Radical linear stride to Explosive Rotation.

Showing why he is one of the best of all time, Wegman's key is to WIND the hips as he takes a radical stride ahead with the front shoulder down, this linear force is quickly converted to rotation as the hips unwind against the front foot andhe is able to rotate with even more force. Angry bear for DeMarini
https://www.youtube.com/watch?v=XWqMIYXc0IA
Episode #55 Arm EXTENSION key to creating a Powerful SNAP

SBret explains arm extension and how it is key for developing the power of the snap. Uses pro models and old baseball footage to help detail techniques, along with Evil ball on the guiderope. A tribute to Dave North and his 20 year old homerun record.
https://www.youtube.com/watch?v=mCQ-w--aaUM
Episode # 54 Pro Swing Comparisons..Greg Connell vs Andrew Collins

Major legend Greg Connell and upcoming star Andrew Collins swings are shown in detail, along with their commentary on what brings them success. Swing makeover 54. Please subscribe and new episodes will be emailed automatically. A great way to observe pure swings and get a feel for their mechanics.
https://www.youtube.com/watch?v=awqu_cdrn_A
Episode # 53 Improve Hip Rotation with 2 Killer Techniques

The diagonal rotation drill is something new that does a tremendous job of creating not just horizontal torque between the hips, but also a diagonal torque between the rear hip and front shoulder. This allows the hitter to rotate tighter, and create a more natural body angle for driving the ball.
https://www.youtube.com/watch?v=5Eeoh_4Oar4
Episode # 52 "Ball Exit Speed Testing and Pro Softball Swing Demo's"

We share our experiences with ball exit speed testing from winter lessons and our testing at Softball Magazine
Spring Training with the top Pro's. An interesting look at what exit speed means, and how it shows power levels. Also how to improve you ball exit speed. An appearance by Bear.
https://www.youtube.com/watch?v=4kIwhNP5TVc
Episode # 51 "Lessons: Amazing Before and After Stories"
We look at a group of lesson athletes, identifying major flaws, and showing some drills and teaching that is portrayed in their before and after swings. Interesting to see the wide variety of skill and strategy in these sessions.
https://www.youtube.com/watch?v=MgegoBFNK6k
Episode # 50 "Are your Hips, REALLY Leading your Swing?
Many of us Rec Players, turn the upper body and the hips supplement or follow. Its a subtle technical flaw to view on video, yet costs us a tremendous amount of power and consistency. This show explains, gives drills and will help you practice leading the swing with the hips. Bear appears as the "most powerful hitter in the world", Bob Russell from Evil sports cameo.
https://www.youtube.com/watch?v=L-yjoqTovQc
******************************************************************************************************************************************************
SEASON 4 SHOWSEpisode #49 Swing Makeover Quickie..
Fast hands driving the knob and Quick Powerful Wrist Torque to Snap and Drive Bat head into the ball..pro swings
demo..a Swing Makeover Short
https://www.youtube.com/watch?v=xi8yUI0Funs&feature=youtu.be
Episode # 48 Before and After Lessons...under construction

Episode #47 Brace Leg Drill, Balances Rotation and Snap in your Swing.

The Balance between Body rotation and the Oversnap is one of the most difficult to master. By using a brace leg drill, we isolate this to the last part of the motion and can quickly develop the skills and feel of having hips, shoulders and wrists in Sync. The introduction of the D-menator and Demarini bats.

https://www.youtube.com/watch?v=z8MXjNHKiRM
Episode #46 Evil BP on Guide Rope...Best muscle memory training device that gives real hittin feel and you can make for a few dollars!
This is a simple, all weather, all location swing trainer, that will rapidly build muscle memory and allow you to practice your swing anywhere.
It involves using an evil softball with a half inch hole drill thru the middle and its placed on a guide rope to emulate the proper swing path..level to slightly up. The amazing thing is it gives immediate feedback on your hit. If you hit it well, the ball zips to the other end, hit poorly, it just bounces up and down the rope. Hundreds of swings can be done easily and anyway you can hook both ends, to develop muscle memory and be guided automatically to good technique. A visit from the worlds most powerful man and introducing Mike Cornell and Mike Dill, and new DeMarini line.
www.youtube.com/watch?v=g8Tz-nazLjY
Take hundreds of swings, in a short amount of time in a limited space.
Episode #45 Slide Tube, Amazing Training Tool you can make..Drills and Techniques for Proper U
se.
The slide tube is one of the best and simplest tools you can make or buy off our website and it allows you to drill and train muscle memory for all parts of the swing. This video shows the slide tube and associated drill, live swings and how they all can be learned and drilled by using this outstanding tool. www.sportstechnique.com Rotational hitting by Swing Makeover episode #45..Bret does the teaching and demo on this product.
https://www.youtube.com/watch?v=ktK03hDj7hU
Episode #44...Shoulder Torque and 3 Critical Steps of the Snap
Seldom discussed , Shoulder Torque can unlock full hip potential, keep body angle integrity, and can help those with
injuries , or back and joint problems. We discuss this technique and focus as well as 3 main steps that will help you snap the bat head more easily. It utilizes the slide tube, evil bp balls and the gtee for learning the lead arm drills.
https://www.youtube.com/watch?v=LqzRKzx9Y7M
Episode #43...The Power LAG, sets up an EXPLOSIVE SNAP.

One of our most important technical episodes. If we get our hands back and focus on using the hip and shoulder rotation to stab and drive the hands and knob at an up angle and to the inside, we will develop a powerful lag, which in turn will set the angle and motion needed to achieve an almost automatic snap. Holding the arms back and the lag just for that last split second, sets up that last split second more of rotation, before the explosive extension of the arms, torque of the wrists that will snap the bat head into the ball. The Slide Tube is shown in detail, and how such a simple piece of equipment can help develop such a complex swing.
https://www.youtube.com/watch?v=jzkElVD6LAY
Episode #42...Larry Carter Signature Senior Bat Review & Interview
DeMarini has come out with an excellent midload senior bat that has top end peformance and so far has very good durability. Its namesake is Larry Carter...and this also contains a short interview and swings from the great Larry Carter. Its the best DeMarini bat to come out in my opinion, in the last few years for most rec guys who don't want an overwhelming endload.
https://www.youtube.com/watch?v=Okmxmre5mRA
​
Episode # 41...6 Rules to a Powerful Bathead Snap
Bret outlines, with pro swings as demonstration visuals, the 6 basic rules to developing a powerful tomahawking pro style oversnap. Doug Johnson, Utrip hall of famer and featured hitter from our Learn to Hit a Softball 400 Feet video, visits the show and talks about how mechanics never change...good technique is timeless.
https://www.youtube.com/watch?v=kZgkuemOTqA
Episode # 40...NFL Star's Dad, Develops Big Power

Ron McCoy, father of LeSean and LeRon McCoy, learns a powerful A to B oversnap and goes from a singles hitter to winning the first Softball Magazine Senior Camp's coveted homerun title. Also little hercules and big hercules lesson makeovers are documented. A fun break from the technical shows.

https://www.youtube.com/watch?v=GdkH5Vj0OYM
Episode #39...Re-Learn Hip Rotation to Cure Early Season Slumps!

The hips are the most important part of a rotational swing, supplying the power, and helping with body angle, tempo and working in sync with the shoulders and upper body. Early in the season, hitters often focus too much on the upper body and snap, causing inconsistency to set in. Drills help learn stride, weight transfer, body angle, tempo and timing.
https://www.youtube.com/watch?v=H_hhWczk_g0
Season 3 Shows
Episode # 38...Rec level player Lisa and 55 Major level Tonny, improve average by Precision Placement of Hits.
by improving their bat head snap and by learning to place their hits to open areas, both improve their average and strategy of basehitting. Improvement in snap brings more power to the hits as well. Bear in his finale of the Bearachelor,
and Bob Russell demos the Evil BP ball.
https://www.youtube.com/watch?v=fLStQwsOKokEpisode # 37...The Lead Wrist may be BLOCKING a Great Swing. Drills and Equipment to Retrain.
​
The lead wrist blocks a great snap in the majority of the rec hitters we work with. This show outlines how the Pro Style Snap works mechanically, and we provide daily drills, that can be done inside your garage or basement, that teach muscle memory to the lead wrist. Lead arm drills, teach us to snap and cut the ball. Also the Bear-achelor with Bear and DeMarini.
https://www.youtube.com/watch?v=gCA4P6OJzVch Episode #36...Softball hitting:Basics of Cutting the Ball with Ryan Harvey/Bob Woldyke SM#37 ​
Cutting the ball for basehits and homeruns requires both a physically powerful snap and a mental focus of cutting thru the ball for the desired spin and affect. A pro style swing allow a rec player to become more powerful and consistent. Top young and senior pro's, Ryan Harvey and Bob Woldyke demonstrate drive, extension and snap of the bat head thru the ball. www.sportstechnique.com "Swing Makeover # 37"
https://www.youtube.com/watch?v=qTpmDc2X6vU
Episode #35...Wind the Hips for a more EXPLOSIVE UNWIND...5 steps teach the technique, and we show 4 drills to practice it.
One of our best technical shows and one of the most effective techniques you can learn. Includes hitting demos, and features the "Hitless Fisherman" Commercial for deMarini.
https://www.youtube.com/watch?v=u2TSPQK154Y
Episode #34 Pro's discuss Tempo and Timing. 70 year old improves average .250
70 year old Gerry Moore improves several flaws and has a big season change in average. All World senior hitters Steve Imlay and Jack Aronson discuss tempo and timing issues
https://www.youtube.com/watch?v=-YHTTsEhpxY
Episode # 33...80 year old Rudy's Lesson...By doing 250 perfect snaps daily, Rudy hits the ball 340". Amazing
Amazing..5'9" 174lb Rudy improves his rotation and snap and improves his power from 260' to 340'. Also he improves
his consistency for line drives to the gaps. Drills to work on the snap and equipment you can make.
https://www.youtube.com/watch?v=KKSYc8vyaRIEpisode # 32...Understanding how Rotation & Body Angle lead the Swing.
Bret and Scott Kirby discuss how Hip Rotation and Body angle are key elements in starting the swing. Weight shift and the push off the back foot must be done properly as well. Bear 's first episode of the "Bear-achelor"
https://www.youtube.com/watch?v=PaNk0r-23n8
Episode # 31...Timing & Power Slumps? Balance Rotation & Snap SM #31, Slowpitch Softball Hitting
Midseason slumps bring on timing issues and loss of power. By balancing the bodys rotation and the drive and extension of the arms and snap, they will be in sync and the swing will flow smoothly. Drills are introduced that will allow athletes to time these two key elements of hitting. Swing Makeover #31
https://www.youtube.com/watch?v=LTbqzxBH5tA
Episode # 30...Kevin and Justin Add 70 Feet of Distance in their Swing Makeover lessons
41 Year old Kevin and 31 year old Justin, fix some serious swing flaws, and respond with an impressive gain in conssitency and distance. Swing Angle, Stab and Snap Extension are key elements in this episode. Bret reviews the
CL22 DeMarini Utrip model and Softball Magazine announces Dec 2015 Senior Softball Camp
https://www.youtube.com/watch?v=XxZefSH6Sm8Episode #29...."Want More Power? Get Arm Extension within the Hip Rotation."
The secret to that extra 50 feet is the double pendulum or the rotation of the wrist snap within the hip rotation. This
mechanical movement almost doubles the bat speed. Its why the pros go 500 feet plus and its why smaller hitters outhit much bigger opponents. We view some of the most powerful pros in the game to understand how this works, then Ken shows 4 drills that allow you to create the Stab, Stab and Snap motion, of extension using tools such as the slide tube, and tee. One of our best instructional episodes and easy to understand and perform a very misunderstood technique. A visit from the "Most Powerul Hitter in the World."
https://www.youtube.com/watch?v=VWY9bnHRGOYEpisode #28.. "The Drills and Steps of our Hitting System". Th
The different parts of our teaching are scattered throughout the 28 episodes. In this show, we start at the beginning of the stance , and progress from step to step, so you can see how the system works. We identify and show you your flaws at the start, but ultimately by following the steps in order, you learn from the feet up, the proper way to do the mechanics and you will find the flaws then disappear automatically and you learn the consistency of this program . We do not go into depth on these...that is what you reference each individual show for, but we show how the system works and why it is so success
https://www.youtube.com/watch?v=rsMsO5sYxB4
Episode #27...."Top Pro's Teach Basehitting Strategies"..
When you have homerun power, learning to control homerun production is key.
Top pro's in the young men's game, discuss 3 different strategies on how they go for basehits when no homeruns are available.
https://www.youtube.com/watch?v=K1cNrb3k8ocEpisode #26..."Leveling Up a Downswing , Brings BIG RESULTS
We feature 5 hitters who have good size and power, yet were swinging at such a radical angle down, they cleaved and mishit the ball for flyouts and popups. Using a tee and drills, we created a better body angle and a level to slight upswing, so the balls were hit more squarely and they hit in the middle or top of the ball for line drives and occasional homeruns. Bear featured as "disco bear."
https://www.youtube.com/watch?v=dvOCQ-GFuoQ
Episode #25...Improve Game Performance by Focusing on the BATHEAD hitting the ball...
This is one of the most groundbreaking techniques. If you have worked your mechanics, and have the base elements in place, this focus will bring them together and allow you to have one thought...hips pullsnap bathead into the ball...unreal results. Bear doing Rob Lowe parody.
https://www.youtube.com/watch?v=t4oEX7JP6s0
SEASON 2 SHOWS Episode #24...Evil BP Balls & Outdoor Tee Hitting, Best Tools for Improving Technique"
...We show how you can make the most rapid improvement, by using the techniques taught in these shows and practice them by yourself off a tee, using Evil BP balls. You learn how to hit to all fields, strike the top or bottom half of the ball and learn how to read spin.
https://www.youtube.com/watch?v=Mcc5Ewnt3QgEpisode #23...Weight Transfer, Misunderstood Key to Explosive Hip Rotation
...
Destiny shows a weight shift drill that really helps explain and help hitters transition the stride to the hip rotation. For those jammed on rear foot this is an awesome new drill.
https://www.youtube.com/watch?v=ZtBZPKwyT-EEpisode #22...49 year old Pat, improve Hip Rotation, by taking a stronger stride and getting a better Weight Transfer.
At Truman Stadium this lesson features Ken and uses base drills and tee.
https://www.youtube.com/watch?v=VyTFVJm-Oq4Episode #21..50 Year Old Joe adds 150 of Distance by improving stride, snap and hip rotation.
Filmed in St. Pete at Woodlawn Hitting Club, Joe could not hit past 180 feet, but in this 2 hour lesson showed massive improvement. Bret, Ken , Dave and Bear work this show. Bear also introduces his commercial spoof, "The Most Powerful Man in the World"
https://www.youtube.com/watch?v=nK0Sr6d7tqsEpisode #20....Pete's Makeover Lesson, fixing lunge, downswing, and snap
. Uses the rotational trainer and perfect snap drill. Also Bear's Billy Jack parody.
https://www.youtube.com/watch?v=o6Mk3X4-psUEpisode # 19..Single Drill Teaches Perfect Wrist Snap. Pros
discuss wrist snap SM#19
https://www.youtube.com/watch?v=dOkftXxFKFA
The wrist snap always is so subtle and complex
to try and explain and do consistently..they must direct the power of the hips
and body..thru the forearms and wrists to the bat head, and to do so to
consistently strike the part of the ball you desire. Bret came up with a simple
drill that takes the bat head from a to b and allows this movement to let you
feel and learn the muscle memory of how the wrists should move. This is the
first time I think the wrist snap has been described and taught, that allows us
who don't do it naturally, to get the feel the pros do. Top pros discuss their
feeling of wrist snap at the end.
Episode # 18... A $3 Rotational Pipe Trainer that Eliminates Lunging and creates more rotational speed, power and consistency.
https://www.youtube.com/watch?v=WBpkMsldcbA
Use of this cheap and clever trainer, teaches the hips AND SHOULDERS to rotate at the same angle and speed. We had been finding a lot of hitters lunging the upper body and lead shoulder ahead and down. This pipe tool, which you can make for 3 bucks, is
really an effective piece of equipment. Lunging causes weak fly balls and pop
ups, and is one of the biggest swing flaws we see in rec hitters.
Episode # 16 "How Top Softball Pro's use Rotational Mechanics to Hit 500 Feet.
https://www.youtube.com/watch?v=TMpd6LsNvSU
6 top softball pro's show demonstrate the steps of rotational hitting, then show their long ball hitting prowess. Hitters can hit the top or bottom of the ball for basehitting or homerun hitting.Episode #15 "Miguel's Individual Makeover and Lesson using STS systemhttp://www.youtube.com/watch?v=LsYNY6IPdFg
Our first lesson/makeover of the season using 40 year old Miguel. He wanted more power and consistency. Ken and Bret work with him on a better body angle, hip thrust and snap. Use of guiderope, bat on hip drills. DeMarini Dual Stamp the One featured.
Episode #14 "Slide Tube System" Revolutionary System for its Simplicity in Teaching Hitting.
https://www.youtube.com/watch?v=UKM_S8fsY5s
Oh, man! This system is so awesome and its what we have been using for the teaching system in the Season 2 lessons. We also are using for our baseball and fastpitch girls, and its success rate on our lessons is amazing. Its so simple and it does a great job of teaching hitting, by the use of a slide tube and 3 drills. Its the best swing simulator in the game and can be made for less than $10.00
SEASON ONE SHOWSEpisode #12 " Double Knobcuff Use for Maximum Power and Control also the Amazing 70's Bomb Squad.
http://www.youtube.com/watch?v=pcGQ3EWAB0k
This is a real fun segment, showing the use of a double knobcuff to enhance the feeling of the top hand being extended by the top arm...a key to the second level of batspeed. Then we show the 70's bomb squad..a group of athletes up to 76 years old, still able to hit the ball over a 300 foot fence and line laser shots to the outfield.
Episode #11 " Go from Overthinking Mechanics to a Single Focus Swing Thought"
We use a smooth swing progressive drill, to change our focus from thinking the mechanics and performing them properly, to a single focus game mindset. One thought will trigger the mechanics naturally and instinctively, allowing us to focus on pitch selection, and the part of the ball and field we wish to attack.
http://www.youtube.com/watch?v=Exc4rvbSvzY
Episode #10 " Add 50 Feet of Distance by Snapping the Wrists and Hips in Sync"
Top pros and our staff show 4 techniques for rapidly improving the wrist and hip snap, and we see an explosion of line drive and homerun bat speed, as well as consistency of having a good a to b swing with a proper point of contact and tempo.
http://www.youtube.com/watch?v=B5iyO9HARw0
Episode #9 "Palm Up Pushsnap (PUP) a simple method of hitting for the struggling Hitter"
Ken shows this simple, easy to learn system of Palm Up Pushsnap designed to help develop consistency and power in a rec or tournament players swing. Bret and Destiny review the FuDawg and J3ASA, new standard ASA bats. Bear is chased down by the St. Petersburg Amish Mafia as revenge for his pipe comments.
http://www.youtube.com/watch?v=FV_XKgbG6Hg
Episode # 8 "What Focus do the Pro's use when Hitting?"
Showing the similarities between legendary baseball greats like Babe Ruth, Mickey Mantle and Ted Williams compared to the softball pro's of today, we explore what focus or simple thought and concentration on a certain basic element of the swing, allows the rest of the movements to automatically and naturally work in unison. A good focus will trigger the correct mechanics without having to overthink at the plate.
http://www.youtube.com/watch?v=VKpIYeNCwi8
Episode #7 "Creating Bat Lag and Snap for maximum power and consistency"
. Also we start explaining the Difference between Wrist Snap and Wrist Roll. Wrist snap is the sideways torque of the wrists in a top hand palm up, bottom hand palm down to bring the bat head into the ball...the wrist roll comes after contact with the ball ,as part of the natural follow through. An outstanding episode.
http://www.youtube.com/watch?v=Doqu5vwtqbk
Episode #6 " We combine swing parts one and two into a dynamic motion of stepping and throwing the hips open in an explosive manner, to maximize rotational power".
The more effectively your hips work, the easier it is to throw and snap the bat head into the ball. Short and concise, this features top slowpitch pros hitting.
http://www.youtube.com/watch?v=rhwWe4gWTnY&feature=youtu.be
Episode #5 " Drill number 2...Rotation to the point of Wrist Snap. Also the Senior Bomb Squad 2 Hitting Exhibition from Woodlawn Hitting Club, St. Petersburg, Fl
http://www.youtube.com/watch?v=u2ENMTiWTsM
Episode #4 " Connecting the Hips to the Hands and Bat Head... for maximum power and consistency
. Bret explains how we combine a strong stride, a lowering on the rear leg and the setting of the body angle..all while the hands come back and connect the hips to the hands. Our first basic drill of 3 in learning the swing.
http://www.youtube.com/watch?v=aP0kBjjaC7I
Episode #3 "Pipe Drills that allow instant feedback and allow you to feel the proper swing".
We also track the progress of 3 of our senior hitters as they improve on a
stronger stride and more powerful hip rotation. Very innovative and effective.
https://www.youtube.com/watch?v=wzChRznHwD0
Episode #2 " Loading and Driving the Hips Open in a Rotational Swing"
We use a strong stride as we lower on the rear leg, then we DRIVE the hips open for more power
and consistency.
https://www.youtube.com/watch?v=MEQE_YkCSaA
Episode #1 " Using a Stronger Stride for Better Weight Transfer and a more powerful
hip rotation".
The first step in a great swing.
https://www.youtube.com/watch?v=mMRJlZ_yh1s
---