*Directions, email, phone and Lesson Prep Plan for both Woodlawn Fields in St. Petersburg, Fl & at our Truman, Wisconsin Facility are located at the BOTTOM of this article.
contact info best thru email
kennethvanbogaert@gmail.com
type in manually if you can't hot link here
Professional Swing Analysis, Clinics, and Individual Hitting Lessons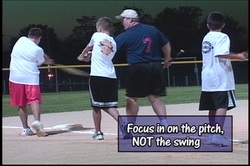 We travel the US, but mostly base out of Wisconsin our home facility and then from Woodlawn Park, home of Woodlawn Hitting Club, St. Petersburg, Fl in the winter months. While we can give clinics and are some of the lead instructors at Softball Magazine's Senior Camp,
we can cater to your needs
. Hundreds of hitters every year, who have purchased our dvds or have viewed our youtube series, email us requesting help with their swings.
Our success is the simplicity of the step by step program, accompanying drills we have developed and training tools you can make yourself for just a few dollars
. We identify your flaws, but actually teach you the way to do it properly....with the flaws disappearing in the process.
We have one of the finest indoor cage hitting facilities in the midwest area as well as our own fenced softball field on site.., and welcome athletes for softball and fastpitch . The Best part is our "Swing Makeover Show" is free on youtube, easily accessed off this website in order with details of each show, and the show provides our teaching at the ease of your computer. Email us for details on how to enhance your ability to excel. We prefer email for correspondence.
kennethvanbogaert@gmail.com
or 608 574 2612
_______________________________________________________________________________________________________________________________
*************************************************************************************************
2017-18 Instruction options and prices for FLORIDA..Dec, Jan, early March very limited availablity:
Winter seminar/clinics include
2 parts
. First a 2 hour
teaching segment with hands on interaction
, in which we layout how the swing works, how to use the specific hitting equipment like slide tube and evil ball on guiderope, tee work and other tools. This is key to understand the mechanics of rotational hitting and why flaws happen. This gives a great base of knowledge before we go into our on the field training, allows questions and makes the on the field learning more efficient. Secondly, a 3 hour
extensive drilling and training segment
, in which we use this hitting knowledge to smoothly go thru all the drills and to learn to perform the mechanics properly.
Here is a sample format of the extensive drilling segment
.
*Live before instruction swings with high speed camera and rear live camera
* Before instruction Batspeed testing and high speed video of live swings for preswing base levels
* Brief Analysis of your swing flaws and what is breaking down
* Drilling of: (all of which can be reviewed later on our Swing Makeover Episodes for free off this site)
Stance, Grip, Weight Transfer, Tempo (baBOOM), Rotation of Hip drills, Bat on hip drill, Bat behind back Drill, Diagonal Hip and Shoulder Drill, Rotational Trainer, Stance Drill, Connection of Hips to Hands drill, Perfect Snap Drill, Frisbee lead arm Drill, Lead arm full swings in an arc with hand release drills, slide tube with full drills including connection, point of contact drills into heavy bag, progress on to evil bp ball on guide rope, no chase balls off tee with lead arm and full swing drills off Gtee, tee swings with point of contact and hitting to all fields, hitting top, middle or bottom of the ball, finally live swings with after bat speed testing. We use 2 color Evil softballs to monitor spin and to control swing angle to hit particular part of ball for underspin or topspin. We do a post interview, pick up balls and are done.
INCLUDED free with your 2 part lesson these products we sell off our webpage:
* Our Swing Makeover Hitting Manual...available only to our lessons...$20.00 value
* Slide tube and Guide rope...(sold off our site
but provided with lesson
)...$ 30.00 value
* Before and After Swing Analysis.. emailed includes a video and email lesson plan for you improvement) ..$25.00
$75.00 value included free in your lesson
* email video follow up...a few weeks later, you can send us a video of your swing live..and we will discuss improvements and steps to continue advancement of mechanics
WE provide field cost, evil bp balls, DeMarini demo bats, ASA, Utrip and Senior, TheGTees, plus all our training equipment and safety screens
.
You bring shoes, batting gloves, water, sunscreen and your game bat to compare to the demos if you like.
Time:In Florida December, January, limited MarchFormat: 5 athletes per session max., split teaching sessions...
Evening Classroom Seminar 2 hours/ Next morning 3 hour Live Instruction:
* includes everything outlined above including hitting manual, slide tube and video analysis and personalized lesson plan
location:Seminar at Howard Johnson on the Beach host hotel, St. Pete Beach
Clinic next day, Woodlawn Parks, St. Petersburg, Fl.

This is our
prefered
method for Florida, because it splits the learning and allows some time to let the teaching sink in before hitting the field for a 3 hour extensive morning session. There is NO waiting..each athlete has their own setup of equipment, tees, slide tubes, etc...and we do the drills as a unit...You will be tired at the end! The evening before, the group...(typically ken will work with 4 athletes in this format...sometimes with Bret or Destiny.. ) We meet at the host hotel, Howard Johnson's at beautiful St. Pete Beach Florida. Room rates are cheap in Dec/Jan and you also receive a 10% discount when you mention "swing makeover" discount code. From 5pm to approx 7 pm the evening before, we use the banquet room at the host hotel , to give a classroom and hands on teaching session that will cover all aspects of hitting, Rotational hitting and its power and consistency, common flaws, backside hitting, learning to cut the ball for power, how to overcome physical obstacles, bat speed improvement, and how to make and use the tools like the Slide Tube that you see in the Swing Makeover Show. This is open question and answer with explanation of videoing your swing and what to look for. The mechanics of hitting are extensively covered for your understanding. Athletes can order food, appetizers and drinks...and this makes for an excellent atmosphere to get a full understanding of how mechanics work, and how to drill properly. Rather than being rushed on the field , this is a superb way to prep yourself and fully understand the system. It makes the lesson session in the morning run at maximum efficiency and you learn at a higher level. Its also a fun social event.
The next morning from 9am to 12 noon, we do the hands on training, running thru the entire Swing Makeover Hitting System. We cover what was outlined above extensively and you will leave exhausted but with the knowledge of understanding hitting and what you need to do in your own swing to go home and work on muscle memory. We have had some incredible turnarounds in every group...but overall to understand how to drill and hit properly provides the ability to develop these skills at home with drill and tee work. Swing improvement is a long term approach. Many of our athletes improve significantly with the session, but our overall goal is to TEACH and let you leave understanding the swing fully, learning how to drill, do tee work and hit live at home ..doing so properly and you will find permanent improvements in consistency, placement and power will come as you practice. Muscle memory takes time...its what you need to develop by alot of hard work once your home. However, to be able to work with GOOD mechanics, eliminates the frustration of practicing , and constantly trying to change and tweak your mechanics. Each athlete of the group has their own individual equipment, tee, balls, slide tube, so there is no waiting and down time. Excellent success and maximum efficiency in learning the system with this 2 prong approach. Included is video analysis and an individual training video with audio narration that I edit and email to you after the session. It outlines your flaw tendencies and gives specific information on how you can fine tune your personal swing. When you return home, you will understand and get a ton more out of each swing makeover episode you watch.
We stay with our lesson athletes at our HOST HOTEL, at beautiful St. Pete Beach, Florida. Its the Howard Johnson
This is an amazing hotel, RIGHT on the BEACH, with a nice restaurant, heated pool, and the "Toasted Monkey" laid back beach bar. The food is amazing and there is beach volleyball, and easy listening bands daily. Our athletes receive a
10% discount off the room rate, by
calling the hotel and using the coupon code
...."swing makeover. Actually the 10% is available year round, so if traveling to St. Pete, its a must vacation stayover.
Howard Johnsons Host Hotel
6100 Gulf Blvd, St Pete Beach, FL 33706
Phone:
(727) 360-7041...call direct to get room and 10% swing makeover discount.
Woodlawn Parks, St. Petersburg, Fl
1450 16th St N, St. Petersburg, FL 33704.....20 minutes from host hotel..this is location of on the field training
Cost of Mini Camp: $199.00...5 hours of instruction in this setting including $75.00 of equipment and services normally sold off our site....PAYPAL GIFT is prefered method of payment...otherwise cash. Advance payment is due in Florida because of such high demand. $50.00 fee if cancelled within 10 days...$100 fee if cancelled less than 10 days. Please do in advance of
lesson, and make it paypal GIFT to
kennethvanbogaert@gmail.com
We sadly have many more requests than we can honor, so email to ken to register
kennethvanbogaert@gmail.com
if problems with gmail, call or text 608 574 2612...we prefer to correspond by email not phone..we live in a bad cell area.
more location details:Winter Lessons Florida
We rent the fields at Woodlawn Parks…St. Petersburg, Fl...
Field # 1 ( gun range building is BEHIND left field fence)..sometimes we do use other fields***
1450 16th St N, St Petersburg, FL 33704
off freeway:
I-275 to 22nd Ave. NORTH. Turn east to 16th Street. Take a right ( South ).
Go past school , about 4 blocks to 13th Ave. Your there. Gun Club building is
behind left field fence on field #1.
We stay with our lesson athletes at our HOST HOTEL, at beautiful St. Pete Beach, Florida. Its the Howard Johnson
This is an amazing hotel, RIGHT on the BEACH, with a nice restaurant, heated pool, and the "Toasted Monkey" laid back beach bar. The food is amazing and there is beach volleyball, and easy listening bands daily. Our athletes receive a
10% discount off the room rate, by calling the hotel and using the coupon code...."swing makeover"
The link to the hotel is best by direct phone..
Howard Johnson 6100 Gulf Blvd, St Pete Beach, FL 33706 Phone: (727) 360-7041
XXXXXXXXXXXXXXXXXXXXXXXXXXXXXXXXXXXXXXXXXXXXXXXXXXXXXXXXXXXXXXXXXXXXXXXXXXXXXXXXXXXXXXXXX
XXXXXXXXXXXXXXXXXXXXXXXXXXXXXXXXXXXXXXXXXXXXXXXXXXXXXXXXXXXXXXXXXXXXXXXXXXXXXXXXXXXXXXXXXXXXXXXXXXXXXXXXXXXXXXXXXXXXXXX
Wisconsin Lesson Optio
ns:
location/lessons year round Wisconsin...Truman Stadium and the Truman Batting Center Indoors
In Wisconsin available year round
...(indoor cage in winter, combination outside field and cage spring thru fall)
At the Truman Center and Truman Stadium. Southwest Wisconsin, 1 hour SW of Madison, Wi.
22390 Truman Road, Darlington, Wi. is location at our farm. My house is across the street at 22303 Truman road.
Bret teaches out of Madison, Wi on west side.
PHOTO of entrance is at bottom of this page
****
Format of teaching:Individual sessions : (with Ken or Bret at Truman Stadium & Truman indoor Center Belmont, Wi)
Everything included in above description, in a 2 hour session. Includes 30 minutes teaching portion, 1 hour 30 minutes live drilling and hitting segment,
plus manual, slide tube and video Swing Analysis & lesson plan
=
$150.00 paypal gift or cash
Most athletes who travel in do a session with Ken, then a next morning session with Bret...same techniques and training but different personalities, perceptions and eyes viewing your swing. Working one on one is the ultimate, and only offered in Wisconsin. We can do winter in the cage, and spring thru fall both outside and inside combination.
_______________________________________________
____________________________________________________________________________________________________________________________________
***
NEW****** Distance Video Instruction & Training

For those who are unable to travel to Wisconsin or Florida, we offer a video distance training instruction. It works well and is a simple way to analyze your flaws and learn the proper drills and focus to correct . Looking into the belly, you send us 6 to 10 consecutive live bp swings that show a typical session of live bp. Any smart phone can be used and then you email the clip or if problems occur emailing, you can simply upload from your phone to youtube. You detail your age, size, level playing and what kind of poor hits you are experiencing. We analyze your flaws, and give you a detailed email back explaining them, showing the proper drills to view off our Swing Makeover Show episodes and we give training and focus adjustments needed to correct. After several weeks of practice, you resend a follow up live bp
video session. We will reevaluate your progress and give another round of adjustments that will help you continue to improve and understand how your swing is working. This is included free with lessons above. We charge $25.00 for this service ..payment by paypal gift.
paypal gift to: kennethvanbogaert@gmail.com ***************************************************************************************************************
******************************************************************************************************************
Or we may be AVAILABLE to travel to your town and give a Hitting Seminar/Clinic..email to discuss group rates.
If you have a large group of say 30 or more, We can do a 2 hour hands on seminar to the group.

This would be a presentation of how the swing works, steps to the mechanics, common flaws and how to understand and use Swing Makeover Show and tools to improve your swing. It includes hands on for the group use of slide tube and evil ball on guide rope, and use of Gtee and no chase softballs. It would include demonstrations of drills and hitting Bret and I, (perhaps Destiny), and does a nice job outlining hitting and drilling. It does a great job bridging the learning gap between watching the shows and understanding the mechanics taught in a lesson. Again, there will be hands on use of the slide tube and evil bp ball on the guiderope during this presentation, however, most will be in seminar form with question and answer time.
This works well to give a base knowledge of hitting and drilling to a larger group, where one on one teaching is not possible.
*included an email of our Swing Makeover Manual to every attendee (a $20.00 tremendous resource)
Cost for 2 hour hands on seminar with manual ...$20.00 to $30.00 per person
kennethvanbogaert@gmail.comKen's cell- (608)-574-2612
******************************************************************************************************************************************************
​******************************************************************************************************************************************************
When you watch SWING MAKEOVER shows... Click on SUBSCRIBE below the you tube clip as it plays.. This way new episodes will be automatically emailed to you...this is free.
..
************************************************************************************************************* . Location and Directions:Wisconsin lessons are May thru September..indoors Nov. thru March . Our home base is Truman Stadium...Truman is a small unicorporated town, surrounded by quiet farm country and Amish neighbors. The address is 22390 Truman Road, Darlington, Wi 53530
This is southwest Wisconsin, approx 35 min from Dubuque, Iowa, 1 hour 15 minutes Madison, Wi, and roughly
2.5 hours from Chicago.
We have our own 3 cage indoor facility here, and our own softball field fenced at 300' and 400'. Its located on our farmland, on which we raise corn and soybeans. Deer and turkey are common sights on the field during lessons.
Out of town athletes flying in, often fly to Madison, Wi and stay on the west side of Madison. This is an easy drive for a lesson with me day 1 , a stay overnight in Darlington, Wi or Belmont, Wi, each has a single hotel. Amish farm country but Platteville, Wi is 9 miles away and offers the comforts of modern day dining, electricity and running water, lol.
Athletes that bring family, wives or girlfiends, often travel to Dyersville, Iowa, about an hour west from the Truman Location, to visit the "Field of Dreams" movie set and baseball field. Unique experience, and the field has not changed for 25 years since the movie. Dinner at Tony Roma's outside patio overlooking the Mississippi River in Dubuque at the Diamond Jo Casino is popular, then the drive back on the 4 lane highway to Madison. Other interests close by, are Frank Lloyd Wrights "House on the Rock", near Dodgeville, Wi, very close to Truman and on the way to Madison. Or downtown, Galena, Ill historic old shops and dining. An hour south of Truman.
Cell coverage is limited here. Texting works best. Ken's cell (608) 574-2612 Bret's cell (608) 574 6612
*****************************************************************************************************************XXXXXXXXXXXXXXXXXXXXXXXXXXXXXXXXXXXXXXXXXXXXXXXXXXXXXXXXXXXXXXXXXXXXXXXXXXXXXXXXXXXXXXXX
Woodlawn Hitting Club..You see Dave "Pops" North, Mike "Bear" Storer, and Tom "Bif" Peterson in some of the Swing Makeover Shows.. They run a hitting club ....hitting every Tuesday and Thursday morning from 725am SHARP..until 930am or so…They divide into 2 groups…if you want to hit with me or dave or bear..if present that day…ask them to put
you in that group. We get 5 pitches…then rotate..until each guy in the group
gets 25 Pitches. Then we switch places and field..and pick up balls while the second group hits.. We do this twice, so you get 50 pitches and fielding practice. Its social, fun…and afterwards, a block or two
away is El Tanapea, a laid back cheap restaurant, where the guys go for coffee,
breakfast and bs. You are welcome to hit at Woodlawn 4 times before they
ask for a $10 yearly membership for ball replacement. Very social, fun and Dave, I or
club members help each other with their swings. Dry fit tee shirts are available from Dave ...ridiculously cheap!
They hit on Field #1, with gun club in left field. If you reach the roof...360 feet away, and 20 feet high..you join the Roof Club and earn the right to purchase a coveted"Roof Club" dry fit tee shirt from Dave.. Join hitters like Bob Woldyke, Bret Helmer, Denny Crine, Ryan Harvey and other sluggers as Roof Club Members.
Dave North's email is
woodlawnone1
@verizon.net
My contact is 608 574 2612 if no answer, text me and I will call…I am in
a bad cell area at times in Southwest Wisconsin
Email is kennethvanbogaert@gmail.com
Ken Van Bogaert "Bogie"
teaching staff is myself, Bret, Destiny
---