We are currently teaching one on one lessons with our updated fastpitch program. The success of this program has been amazing. Before Destiny left for Vet School at UW Minnesota, she took a 1 year head high school fas tpitch coaching job at a local school. I was an assistant for her. The school had lost 54 conference games in a row and did not return a .300 hitter. In this one year, we were able to implement the hitting program with a high level of success. Destiny broke the losing streak by winning the first conference game in 5 years, and upsetting the #2 seed in the State Championship regionals on the strength of 2, 3 run Homeruns and 14 hits. In this one year, we had a new school record holder with a .524 conference average, 2 more hitters over .400 and 4 more hitters over .300. The girls also hit the first homerun over the 220 fence in the schools history, with 10 total homeruns for the season...an amazing improvement in power and average.
At the college level, Ken was hitting coach for Alison Wright from 8th grade through high school., Alison was a 2 time All State player, and 3 time All American at St. Thomas University, batting .500 for her college career. Her work and experience greatly helped advance our program. Destiny, Ken, and Amber Peters, a high school hitter we coached (.535 conference average and former school record holder), and now on our staff...., also coached the Platteville, Wi. junior high program as hitting coaches. That program won the summer Wisconsin State Title as well as .finishing runner-up.
Our program is simple and designed to help parents and their athletes work on their own to develop both high average and power. We will have an upcoming dvd, as well as a Fastpitch Swing Makeover Series coming soon.. In the meantime, if you wish to train at our 3 cage facility, or do Skype lessons, call Ken at 608 574 2612. Ken is also looking for college level fastpitch athletes, who would like to help develop this program and have the on/off season use of our facility. Our program is different in stance and hand position from what many teach, but it is a much more natural and compact style of hitting and allows a far better connection of the hips to the hands, than other methods.
Stages to an Explosive, Successful Fastpitch Swing
Stage One- Stance

Feet shoulder width apart-Knees bent
Weight- 60% on the back leg and 40% on the front leg
Back leg bent in with weight on inside of foot
Body angle slightly back
Hands pulled back with lead arm straight, yet still comfortable. Hips feel connected to hands and bat. Notice how bat is in a natural position, which needs no adjustment and wasted motion or time before we swing.

---

Stage Three- Rotation/Connection

Hips rotate, connected hands follow, with the upper body is locked to hips and following rotation. Hands and knob travel towards ball. We explode a short,quick stab of the knob at an up angle to create a lag. As stab abruptly stops, bat head will snap to impact with the ball.

---

Stage Five- Finish

Once contact is made, continue powering hips around in arc and hands will follow as we finish naturally

---

Stage Two- Timing

Front heel rises as hips wind, and weight shifts back slightly..hands come back a bit more, strenghting the connection of hips and hands...foot may ease forward several inches....As timing ends, front heel comes down HARD, while the hips EXPLODE opening against front brace leg
Body rotates at a back body angle as we look to drive the ball to the outfield gaps.

---


Stage Four- Wrists Snap to Impact


As the hips explode the hands the short quick stab forward, this forward motion abruptly ends and as the rear hip and top hand force continues, thus the bat head suddenly whips or snaps forward from lagged back to impact with the ball. This happens in a fraction of a second and is too fast to analyze. A good snap is the result of a short, relaxed wind and step, the powerful drive of the hips and stab. By hitting off the tee, the batter will find the snap is instinctive and powerful...no need to overthink.

---
Drills to Help Perform Proper Hitting Mechanics
1.) Bat on the Hip Drill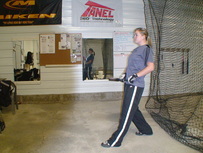 Reinforces proper stance, the wind and unwind, and emphasizes driving the ball up over center field fence.
Perform in front of a mirror at front and side angles to watch for correct form.
Great, easy drill to do anywhere.
For further demonstration and longer explanation:
- YOU-TUBE clip ....
http://www.youtube.com/watch?v=TygPQGOMPrA
---
2.) Guide Rope with Slow, Smooth Swings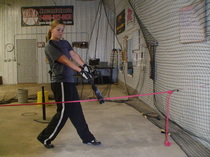 This drill allows us to use slower, smoother swings that allows us to feel the hips, hands, and wrists as they work in sync. If done correctly, the impact feels totally smooth and effortless, and the ball exits as a line drive to the outfield. Hitters can work on hitting the center of the ball and angling the body so this swing is level to slightly elevated and is in the path of the pitch. As we increase speed, we understand that all elements must continue to speed up in a balanced manner. Hips, hands, and wrists all work together in one seamless motion.
For further demonstration and longer explanation view youtube clip:
---
3.) One, Two, Snap Drill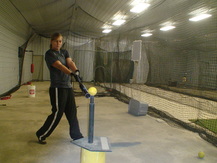 Promotes the connection between your hips and your hands. Again the main focus is hip rotation exploding knob forward to create a lag..using both hands. Feel the hips stab and create the lag...then the snap will explode as the stab ends. . Tempo is also important. Start easy and relaxed and speed up to the point of explosion as bathead buries into the ball.
The hips, hands, and wrists work simultaneously all in one smooth motion.
For further demonstration and longer explanation view youtube clip:
http://youtu.be/0BnC4jbQGMk
---
Things to REMEMBER!
Stay Confident
Have a Main Focus- Hips/Wrists working together in sync

Have Fun
Drive the Ball Up as a line drive to outfield gaps
2011 Platteville Girls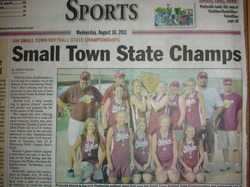 Destiny and Ken are proud to have been the hitting coaches of the 2011 Platteville Girls
14U State Champions and 12U State Runner Ups. We want to congratulate the teams and coaches for all their hard work.
---