CANADA or outside US buyers, cannot use the below buttons to order directly. Email me at 3bogie@lagrant.net for information on how to order. It now cost me directly $8.60 for a single dvd shipping to Canada. Its outrageous, but not much I can do about it. thanks
_____________________________________________________________________

Below you can click to BUY our dvd's using PAYPAL. You can also read about each dvd in detail. ( descriptions are long, so they are listed at the END of the purchase section) Slowpitch titles are listed first, followed by baseball. Our fastpitch dvd's are in development.
_______________________________________________________________
"Analyzing and Correcting Swing Flaws"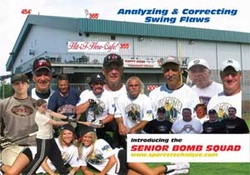 Our latest DVD on Slow Pitch Hitting. Its an amazing production, covering three and a half hours. It is the most extensive complete reference guide on slowpitch hitting ever produced. It is divided into sections,
including analyzing and correcting swing flaws
, swing explanation and breakdown, pro swing comparisons, 45 minutes of extensive drills to develop muscle memory, and interviews with top pro hitters. It also covers the senior softball game and how certain techniques can overcome physical aging. It has a highly entertaining interview and hitting section featuring legendary pros and the first senior bomb squad in Seattle, Wa. Humorous and well visually stunning. Covers base hitting and homerun hitting with different viewpoints on each.
click below to view a short summary of the video on youtube
http://www.youtube.com/watch?v=aCzKSqi8_Fw
Cost: $12.50 total including S&H
---
---
"Blasting Bombs, Spraying Singles, and Unleashing Rotational Power"

Elite slowpitch hitters have a SECRET…it's Rotational mechanics for the highest level of power and consistency. The complete hitters bible, featuring rotational power hitting, 12 methods of base hitting plus drills & awesome action footage. Two dozen pro and rec instructors featured in this very comprehensive/entertaining DVD. Great explanations of underspin and topspin.




Cost: $12.50 total includes S&H
---
---
"Maximum Homerun Distance and Consistency DVD and Learn to Hit a Softball 400 Feet DVD"- 2 in 1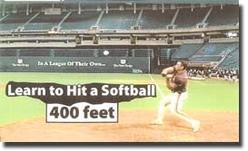 Our second and third national best sellers are now mastered on one dvd. Both are highly instructional for power hitting. Maximum HRD covers a sharp snap of the hips and wrists, while Learn to Hit a Softball 400 Feet, features top pros and their methods of producing long homerun power. 6 hitters, including world record holder Rik Lucas and his 535 foot shot, square off in awesome parks, including the metrodome, attempting to set a new worlds record.


Cost: $12.50 total includes S&H
---
---
"Beginners thru Little League, Explosive Rotational Hitting"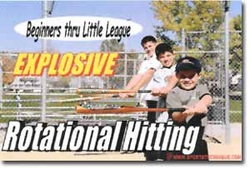 National Best Seller, shows a complete and simple system of drills that progress to tee work and live pitching. Incredibly easy to implement and this program is being used as the base for many youth and high school programs nationally. While done in a baseball format, it can be used for fastptich as well. One of the most respected and successful programs in North America.
See a short youtube clip on this program by clicking below:
http://www.youtube.com/watch?v=9UqbfaUehJc
Cost: $12.50 includes S&H
---
__________________________________________________________________________
"Softball Hitting SWING MAKEOVER SERIES" Season One including Bear and the St. Petersburg Amish Mafia. 11 episodes 1:38 run time
All 11 episodes in order flow nicely to give the hitter the feel of how the swing works and how to best start an approach to better consistency and power. This award winning series, continues on youtube, but this dvd is priced for Standard Defination Home Viewing. We price at 9.99 which includes shipping...a great value and an hour and thiry eight minutes of viewing pleasure.

---